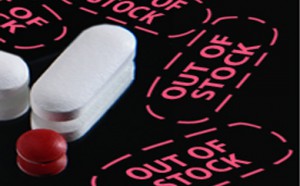 National drug shortages continue to threaten patient care and safety. The existence of a shortage may compromise and delay treatment leading to progression of disease, adverse outcome, or therapeutic failure.
Sources of Information on Drug Shortages: Data on drug shortages comes from different points across the supply chain.  There are two major resources:
The Food and Drug Administration (FDA). The FDA tracks and focuses on shortages of "medically necessary " drugs.
The American Society of Health-System Pharmacists (ASHP) Drug Shortage Resource Center tracks all drug shortages.
In addition, wholesalers may voluntarily submit information on supply interruption, as well as hospitals, individual practitioners or the public.
General Causes of Drug Shortages: Shortages have worsened appreciably over the last few years. Compared with 2005, twice as many drug shortages were identified in 2008, and in 2010 almost 180 shortages of medically necessary drugs were identified by the FDA — triple the amount from 2005.
Sterile injectables comprise the most common type of shortage, with 72% of the shortages in 2012 involving such preparations.
The most prominent causes include manufacturing difficulties and regulatory compliance issues; corporate decision leading to product discontinuation; consolidation of the pharmaceutical industry; and raw, bulk, or active pharmaceutical ingredient shortage. Only 5 companies manufacture 85% of injectable generics.
Action Being Taken to Reduce Shortages: Early notification from manufacturers of any issue that could lead to a potential disruption in product supply has been, and will continue to be, critical to preventing or mitigating drug shortages.
On July 9, 2012, President Obama signed into law the Food and Drug Administration Safety and Innovation Act (FDASIA) of 2012. 
In the new law, Congress provided FDA with new authorities to help combat shortages of drug products in the United States and imposed new requirements on manufacturers regarding early notification to FDA of issues that could lead to a potential shortage or disruption in supply of a product.
The enhanced authorities include the following:
The scope of the early notification requirement has been broadened by requiring all manufacturers of covered drugs to notify FDA of potential discontinuances.  The prior law applied only to sole manufacturers.
Manufacturers are required to report discontinuances to FDA regardless of whether they intend to discontinue the product permanently or are facing only a temporary interruption of supply.
FDASIA enabled FDA to require, by regulation, mandatory reporting of shortages of biological products.  The prior law excluded all biological products from the reporting requirements.
Clarification was made that the notification requirement applies to drugs that are used in emergency medical care or during surgery (if they are intended for use in the prevention of a debilitating disease or condition).
Requirement made for FDA to issue a non-compliance letter to manufacturers who fail to comply with the drug shortage notification requirements and to make the letter and the company's response to the letter available to the public.
In addition to these new authorities, FDASIA included other provisions related to drug shortages which are outlined on their website.
The Food and Drug Administration Safety and Innovation Act also required a GAO report examining the causes of drug shortages and formulating recommendations to prevent or alleviate shortages. The next GAO report should be coming out in December 2013 or January 2014.
Clinical Impact of Drug Shortages: Nearly 90% of the hospitals reported a drug shortage in the second half of 2010 that either caused a patient safety issue, resulted in the delay or cancellation of a procedure, required more expensive substitutes, or resulted in a pharmacist having to compound a drug formulation.
More than 80% of the time, shortages occurred without advanced warning.  And two-thirds of physicians surveyed said patient outcomes were adversely affected.
Summary: National drug shortages continue to threaten patient care and safety. The AMA Council on Science and Public Health recognizes the importance of drug shortages and will continue to evaluate the issue and report on updates and progress being made for improvement or resolution.
Read the 2011 AMA Council on Science and Public Health Report on Drug Shortages and the 2012 Council Update on Drug Shortages.